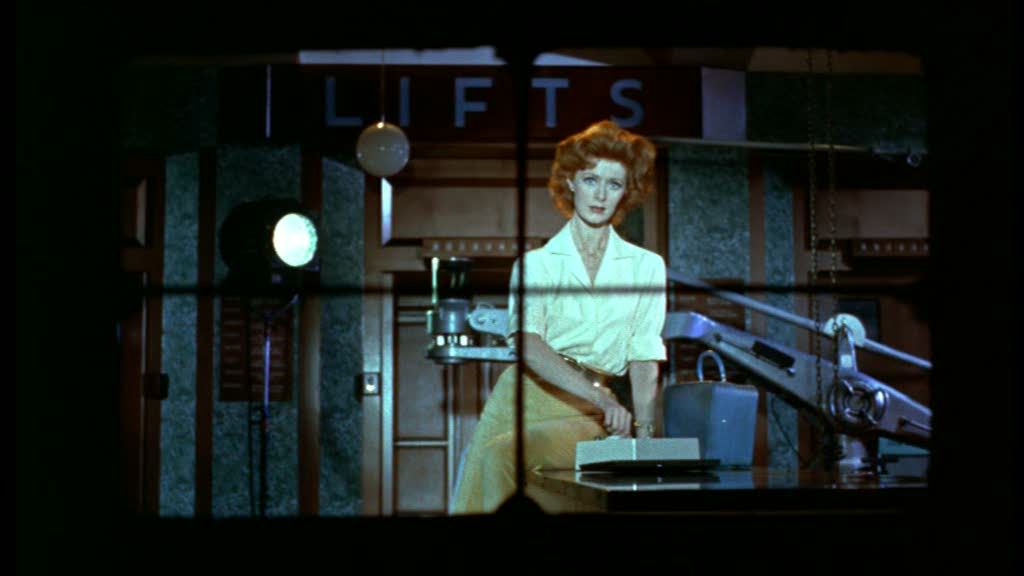 Peeping Tom
was a breaking point in the career of director Michael Powell, the end of his productive association with Emeric Pressburger, who had co-directed most of Powell's previous run of films throughout the 40s and 50s. Powell went solo for
Peeping Tom
, and audiences of the time proved unprepared for its psychosexual darkness, its ugliness and brutality, its stark frankness about the sexual thrills of murder experienced by a shy, quiet young man working in a film studio. One would expect that such shocks would not endure, that audiences would become inured to such horrors — and, indeed, the reputations of Powell and
Peeping Tom
have been rehabilitated since the initial controversy. But this is not to say that the shock of the film itself has worn off. It is still an extraordinarily tense, raw film, dealing with some nasty and discomfiting emotions in a very open way, laying bare the despicable violence that lurks within the impulse to voyeurism, including or especially the voyeurism of the movie theater.
The voyeuristic murders in
Peeping Tom
are explicitly linked to the cinema, and Powell places his audience in the position of the voyeur, admiring the victim through the lens, thrilling on the expressions of fear and revulsion that pass across the faces of the young women about to be killed. Right from the opening scenes, in which a killer stalks a prostitute, Powell places the audience in a voyeuristic position by filming from the point of view of the killer, with the view-finding crosshairs of the camera centered on his victim as though marking her for death the moment she appears in the frame. Later, a murder takes place on a movie set, with the eager young extra Vivian (Moira Shearer) posing happily for the camera until she realizes that her photographer has a darker fate in mind for her; screen immortality coupled with physical mortality. The camera captures the images of the victims at the moment when they will be lost forever. Of course, the victim is found the next day while filming a scene, stuffed inside a trunk used as a prop by a "real" studio movie, and again the killer is on hand, filming the reactions of the actress who discovers the body, as she screams and faints, her reactions not faked for once. The director, who had earlier spent countless takes trying to get a realistic-looking fainting scene out of this same actress, looks over in frustration, exclaiming, "that silly bitch has fainted in the wrong scene." Later, this same director will cruelly force the actress to repeat the scene with only cosmetic changes, asking her to repeat the same lines that are now inextricably intertwined with murder and the discovery of a corpse. Powell's dark humor makes it apparent that he's tweaking the voyeurism of the audience, suggesting that we're all too happy to take pleasure and entertainment in horrible things as long as we know that it's fake, even when we allow an engaging movie to fool us, if only for a moment, into reacting as though it were real.
Later, the home movies of the killer Mark (Karlheinz Böhm) will be discovered by his innocent young neighbor Helen (Anna Massey), and she'll recoil in horror, crying and begging him to tell her that it's not real, that it's just pretend, just a movie. But there is no such reprieve for her; none of the security that ordinary movie audiences have when watching fantasies of murder and madness. Maybe this is why audiences were so turned off by Powell's film, which takes the potential ugliness of the cinema, its capacity for abstracting real horrors, and rubs it in the viewer's face. Mark's murderous cinema places him in a violent and sexual relationship to the women he films, the "actresses" in his homemade psychodramas. When Mark is filming Vivian, at one point he stands behind her, holding his camera close to his chest, raising one of the legs of its tripod in what can only be called a stunningly obvious phallic symbol, an erection even. But it's the camera that's getting excited on behalf of Mark. It's as though he's transferred his sexuality — he's clearly a virgin, and can barely muster the composure to speak most of the time — into the camera, made its tripod leg (capped with the knife he uses to murder his subjects) an extension of himself, just as its lens is an extension of his own vision. Through the camera, he sees everything with crosshairs layered over it, a subject to be captured and immortalized, all working towards a "perfect" film.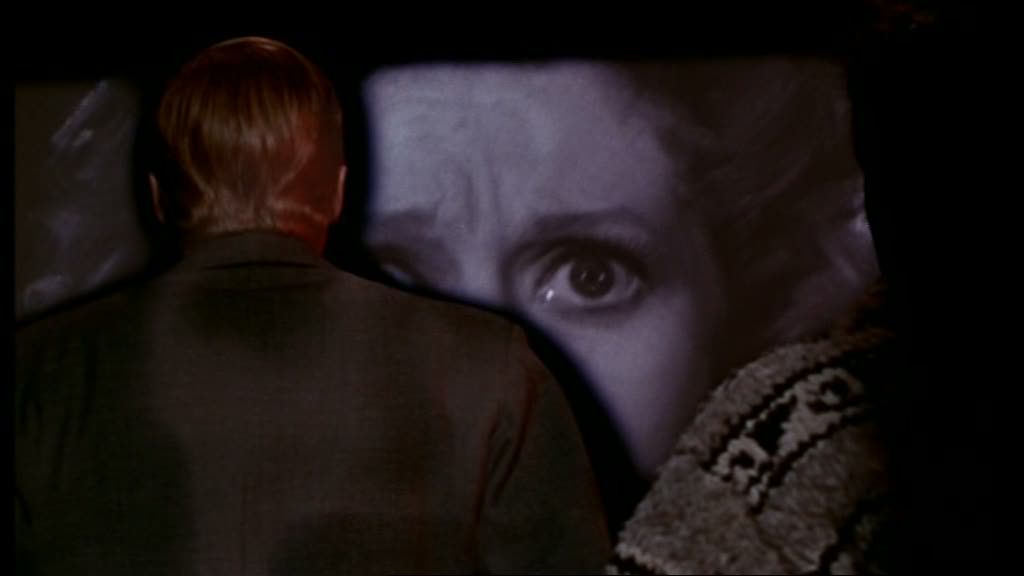 Powell's filmmaking is brilliant here, creating almost unbearable suspense in one scene after another. Böhm turns in such a creepy but oddly charming performance that it's never quite clear what Mark is going to do next, when he's going to give in to the darkness within him and when he's going to resist. This tension is especially acute in the early scene where Helen visits Mark's apartment for the first time, intrigued — why she's drawn to him never really makes sense, other than that she needs to be for the sake of the plot — by this awkwardly shy man upstairs. When she enters his dark room/screening room, it feels like an invasion, like she doesn't belong in such a place of evil and perversion. Powell creates an overpowering mood of dread, infusing every movement, every action, with suspense; even the way Mark glides around the shadowy room, guiding the hesitant Helen to admire his camera equipment, is incredibly eerie. But the most profound suspense comes from Helen's request to see one of Mark's movies. Powell draws out the moment, showing Mark at his cabinet, hesitating over what to show her, and it's so tense because in some way, we understand that Mark's choice of film reels will decide this woman's fate. Will he show her one of his murders? Or the film he was watching when she came in, an only slightly more innocuous documentary reel he shot of his latest victim's body being removed by the police? Or will he actually choose something innocent?
It turns out that in fact he chooses a childhood film of himself, shot by his father, and Powell again ratchets up the tension as this film begins to make sense of Mark's warped mind, at least for the audience; Helen, not understanding what she's seeing, without the knowledge of the adult Mark's actions, is only confused. Powell's genius here is to make the audience root for Helen to stop watching, not to look any deeper into this man's tormented psyche. We don't know what's coming next on this reel, but we fear for her eyes anyway, fear that she'll see something she'll wish she hadn't, fear especially that she'll something that will provoke Mark to turn his camera on her, as he does eventually, trying to film her reactions to this childhood memory. Instead, the camera keeps running, revealing the origins of Mark's psychosis in childhood traumas and the cruel experiments of his father (played, in a brief cameo in these films, by Powell himself, further confirming the film's linkage of cinema with corruption and horror). If the psychology is perhaps a little trite, seen now, it's only because
Peeping Tom
— along with Hitchcock's
Psycho
— has served as one of the template inspirations for virtually all the serial killer thrillers to come along in its wake.
Even so,
Peeping Tom
retains much of its power for making audiences squirm, tapping in as it does to the psychosexual undercurrents of the cinema, the appeal of the glamorous actress posing for the cameras, the appeal of the action and horror that makes audiences react viscerally. For Mark, the cinema is a mortuary, a method of embalming. When watching one of his films, as he approaches the screen, the face of a screaming woman is stretched out across his back, and where this happens her pretty face becomes skull-like, gaunt with black eye sockets, killed within the camera's trap. This, Powell suggests, is the real horror lurking within the empty entertainment of the movies.