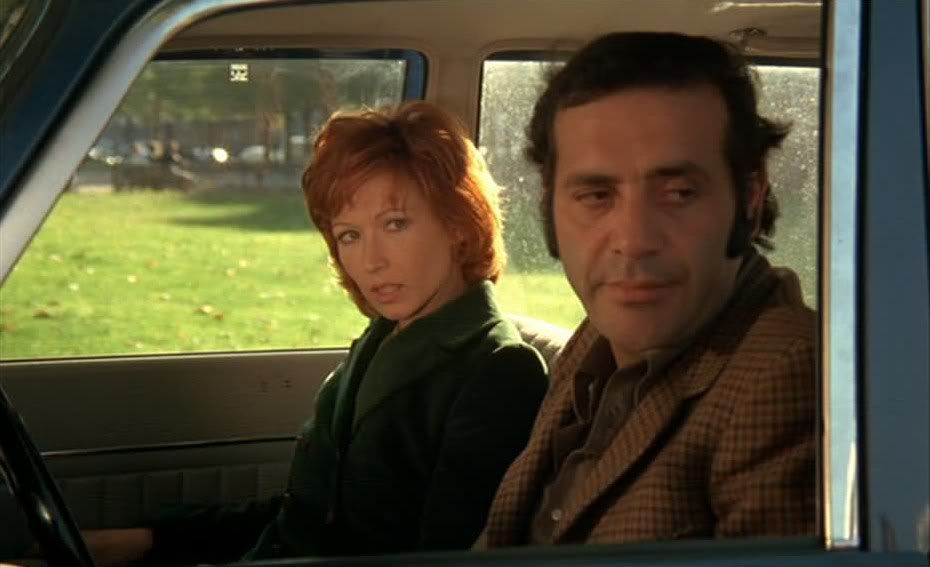 We Won't Grow Old Together
, as its title suggests, is about a tormented relationship. Jean (Jean Yanne), has been married to Françoise (Macha Meril) for years, but his relationship with his wife has been all but over for a long time — she's hardly ever around, always traveling to Russia for work, and she drifts in and out of the film as well, reflecting the ephemeral nature of their marriage. This is not the relationship to which the title refers. Jean's relationship with his mistress Catherine (Marlène Jobert) has lasted for about half as long as his marriage, and their relationship is much stormier, more potent and intense, than Jean and Françoise's chilly, civil non-communication. Jean and Catherine are constantly fighting, constantly breaking up, one or the other of them angrily calling it all off only to go crawling back to the other very soon after. This was the second feature of Maurice Pialat, adapted from one of his own novels, and it's obviously autobiographical in its depiction of a doomed relationship between the brutish, nasty Jean — a documentary filmmaker like Pialat was before venturing into fictional features — and the insecure Catherine.
If this is a self-portrait, it's an unflinchingly negative one. Jean is a monster, a brute, a boor, and he absolutely terrorizes and torments Catherine. His behavior is despicable: he's constantly berating her, calling her stupid, and when they meet her parents during a vacation, she's got a small bruise above her eye, a sign of his often physical violence against her. At one point, when she refuses to have sex with him, pleading exhaustion, he violently leaps onto her and tears her shirt, then storms angrily out of the room (though she later finds him petulantly waiting downstairs, like a little kid waiting for her to come fetch him). Every time she shows some sign of independence, he tries to wear her down, insulting her, calling her ugly, mocking her ambition to become a model, telling her she's good for nothing. He wants her to be weak and meek, to lack self-esteem, because it's clear that he can't handle a woman who can think for herself — because what woman with any sense of self-respect would tolerate his bullshit? He's an utterly rotten character, and yet it's obvious that Pialat sees himself in this man, just as later he'd see himself in the role of the domineering, manipulative patriarch of
A nos amours
, a role where he'd dispense with the stand-ins and simply cast himself.
Here, though, Pialat is filtering himself through the brooding, aggressive performance of Jean Yanne, who excels at playing these kinds of brutes, who had in fact recently played similarly despicable sad-sack monsters for Claude Chabrol in
Le boucher
and
Que la bête meure
. Pialat is unflinching in his depiction of Jean's nastiness, and yet he's clearly also sympathetic to this character, this man who torments the women who love him, relentlessly driving them away and then feeling remorse and nostalgia when they finally decide they've had enough of him. His fractious relationship with Catherine has gone on a long time, but it's only when she starts hesitantly pulling away, trying to detach herself from Jean, that he realizes he loves her and wants her to stay. The film is structured around the repetition, over and over and over again, of the basic scenario that arises from this situation: the couple quarrels, they break up, they storm off alone, and shortly thereafter they're back together as if nothing had happened, and the cycle repeats itself. Pialat's brisk editing emphasizes the cyclical nature of this relationship, with scenes of breakup and finality immediately followed, jarringly, with scenes in which the couple meets up, smiling, for a day together. A closeup of Catherine, a single tear poised on her cheek but never quite rolling off — a perfect metaphor for the static, frozen-in-place turmoil of this relationship — immediately segues into a scene of the couple meeting for lunch, smiling and chatting. And then the conversation takes on a darker tone almost immediately and they part in anger again. Pialat understands this pain, understands this kind of love/hate, push/pull relationship that's clearly dying even though neither of the lovers will quite admit it.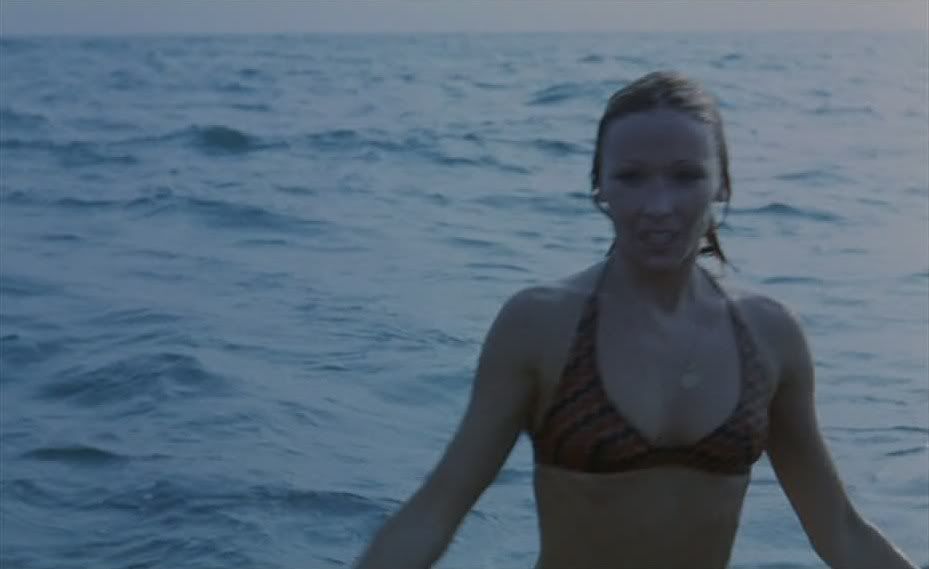 Pialat relentlessly examines the disintegration of this relationship, looking with pity at the spectacle of the hard-edged Jean falling apart as he realizes that Catherine is leaving him. He brought it on himself, and he knows it, and he talks candidly about how badly he mistreated Catherine, even though he still seems to think that it's possible to fix things. It's obvious that he won't change, though, no matter how much he mopes and whines, and in the film's long denouement, Catherine disappears for a long time, leaving Jean as the lonely center of the film, commiserating with his wife of all people, who seems to pity him, to feel bad for his heartache. She's got a life of her own, with friends and lovers and an active career outside the home, and she doesn't need Jean although she remains tied to him by marriage. Jean has nothing, just a stalling career as a failed filmmaker, barely working, with no friends and now no lover either. A brief visit with Jean's drunken, lonely father (Harry-Max) provides a premonition of the pathetic future awaiting men like Jean, who from François' description very much takes after his notoriously hellraising father.
The film's ending provides another vision of the future, a future informed by nostalgia and memory. In the final scenes, Jean and Catherine meet up one last time, after she's left him for good, and they talk about the future and about her new life without him, and Jean still clings pathetically to the hope that he'll somehow, someday get her back, that she still needs him. She doesn't crush his hopes, but she remains tellingly aloof throughout their conversation, communicating the sense that she's done with him, that he's now a part of her past. The film's final shots tell the same story more poetically. After this meeting, Pialat cuts to an image of Catherine swimming in the ocean, alone, an image from the the couple's vacation earlier in the film. As she swims, the waves crash against her head, which remains barely above the water, and she struggles against the violent sea, swimming hard as the the gray-blue water stretches out toward the horizon all around her. Finally, she enters shallower waters, steps up out of the water in her bikini, stretching and pushing her wet hair away from her face, and she walks off toward the side of the frame, pausing for just a second before vanishing at the right side of the frame, leaving behind the empty and turbulent ocean.
Pialat then cuts to grainy, black-and-white footage of Catherine running and posing in the shallow surf at the edge of the beach, images that, with their home movie quality, might have been captured by Jean the filmmaker. These are his memories of Catherine, captured in film, just as
We Won't Grow Old Together
represents Pialat's own memories of his own difficult relationships. Through memory, through the filters of film and art, the past becomes distant, tinged with nostalgia, faded into black and white in contrast to the crisp, colorful clarity of a present-tense moment. Even in the color shot of Catherine in the water, there's a brief glimpse of some object at the corner of the frame, a piece of filmmaking equipment or the prow of the boat the camera is drifting on, a sign of the artifice constructed around this heartbreaking story. Pialat leaves this trace of the filmmaking process intact, perhaps because he wants to acknowledge that this is filmed memory, that the film, like the novel before it, is a way of transmuting painful life into art, placing these incidents irrevocably in the past.