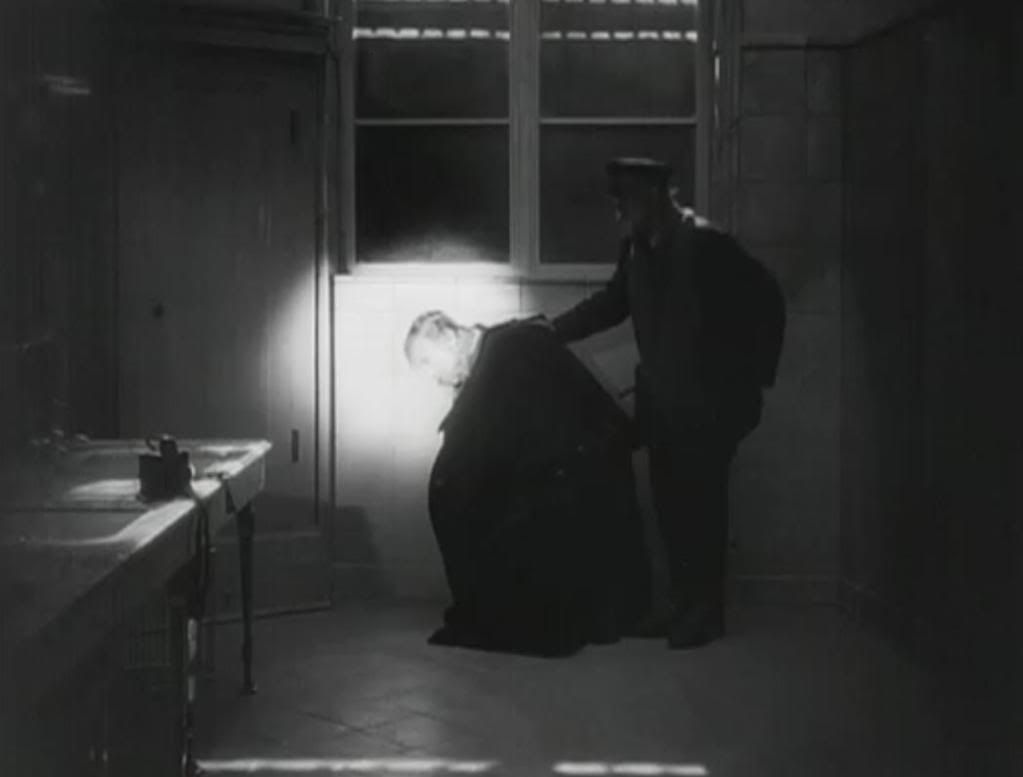 The Last Laugh
was a crucial landmark in the history of the cinema. F.W. Murnau's 1924 classic was a dazzling technical feat that signaled several significant leaps forward in the early cinema: not only was it a work of pure visual artistry, with no dialogue intertitles, but Murnau and his crew (a prestigious group including cameraman Karl Freund and assistance from Edgar G. Ulmer) invented the first dolly shots in film and the first uses of subjective camerawork. Murnau freed the previously static camera from its moorings, and the results were stunning. The film's expressive, potent style movingly renders the story of a hotel porter (Emil Jannings) who is demoted for being too old and out of shape to properly do his job anymore. This is an unrecoverable blow for him, because everything he is, his entire sense of self-worth and identity, seems to be tied up in his job. In the film's opening scenes, he struts around the hotel, with bellboys scurrying to assist him in his work, and he obviously takes great pride in his puffed-up image, with his ornate, militaristic uniform. He waddles from the hotel to the curb, guiding guests in or out, summoning cabs, carrying bags, his girth straining proudly against the stiff front of his uniform with its rows of shiny buttons.
At home, he is equally proud, and when he enters the courtyard where he lives, everyone jumps to attention as though greeting a visiting dignitary, the men doffing their caps while he salutes. He walks stiffly, in obvious pain, his huge gut thrust out in front of him, exhausted from a hard day of work but still happy with his self-image, his view of himself as someone important. Even if it takes a tremendous effort to keep his back straight after each day, he endures the discomfort for the sake of the pleasure he gets from feeling so important and respected. When he's demoted from this proud position, his grand uniform rudely stripped from him, it shatters his world so badly that he can never recover, his job was so integral to his feelings of self-worth and happiness. The world is literally bent out of shape: leaving work after finding out about this change, the porter feels as though the hotel itself is going to crush him, in an extraordinary effects shot where the building seems to warp downwards towards the old man.
Later, drunk at a wedding, the porter sways and staggers, and the camera sways with him, tracing jittery arcs around the room from the old man's point of view, as his gaze drunkenly skips around the room. This subjective perspective aligns the audience with the old porter's attempt to erase his feelings of failure and abjection in revelry. This then fades into a dream sequence in which everything is hazy and distorted as though in a funhouse mirror, while the porter fantasizes about being restored to his old job and displaying a feat of tremendous strength, easily hefting a bulky trunk above his head with one hand. It's a fantasy of power and control, an assertion of the masculine virility that he now feels he's so completely lacking. This is a depiction of a society in which those who are past their peak are cast aside without further care, their will to live drained by the cruelty of the world's disregard. Even the porter's own family, when they learn of his new lowered status, quite literally recoil from him in horror, as though they're seeing a monster. It's almost comically exaggerated, but it makes the point: if a man's self-image is so thoroughly dependent on such shallow signifiers, on shiny uniforms and hollow prestige, then it is very easy indeed to tear him down and destroy him.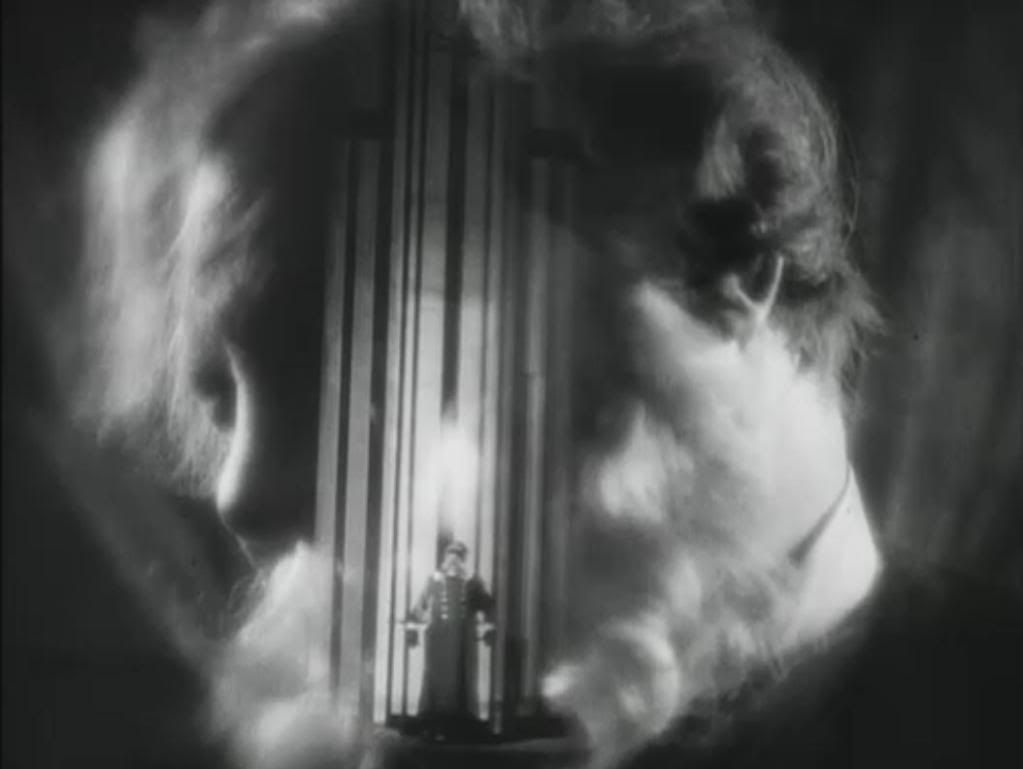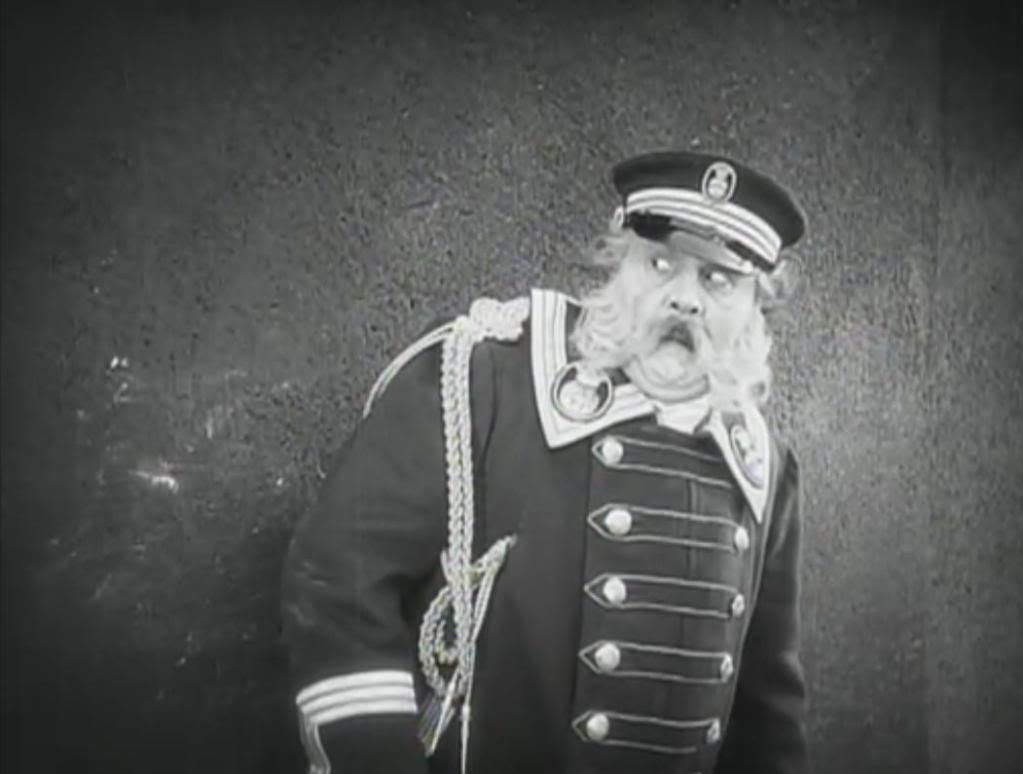 There's also a class component to this story, in that the porter's pride in his job and his uniform only causes him to be content in his relative poverty. He returns home to a decrepit, cramped tenement apartment and struts around as though he's an important and wealthy man, but actually he's a servant with a nice costume and an inflated sense of his position, which distracts him from his actual class status. Jannings' performance is remarkable, communicating all this complex emotion and social angst through his body language and his expressive eyes, about the only part of his face that's visible behind his ornate facial hair. When the porter learns of his fall from grace, he tries to keep up appearances by stealing back his old uniform, but it proves to be not enough. Whereas he used to return home with his chest puffed out, walking with a regal manner, his confidence is shaken now, and he skulks into the courtyard, hunched over, anxiously looking around as though he wants to simply disappear into the shadows. He has to remind himself to stand up straight and try to project confidence, but as he walks towards his apartment, his slouch returns, slowly but surely, and soon he's scurrying home past the laughter and disapproval of the neighbors who were once so awed by his seeming dignity.
The film has no textual titles except brief ones at the beginning and before the tacked-on, studio-mandated epilogue. Murnau and screenwriter Carl Mayer convey everything entirely through visuals, through performances. The complete lack of dialogue text is very refreshing, preventing the film from getting bogged down in endless reading breaks between images. Even in the one scene where Murnau uses text within the
mise en scène
, this text isn't simply a static paragraph. The porter learns of his demotion to restroom attendant through a letter, and Murnau displays this letter onscreen. But when the porter gets to the part that is for him the key phrase — the humiliating line that attributes this change to his "age and frailty" — the camera tracks along the words, following his eye as he takes in this disheartening phrase. The image then begins to blur, as if with tears, confirming that this is the first subjective shot in the film — and the first subjective shot in the then-short history of moving pictures! Even with the novelty long since faded, shots like this are incredibly affecting and bracing, as are the graceful tracking shots that zero in on the porter's distraught face at key moments.
The film proper ends with a haunting, stark shot of the porter slumped over in the restroom, totally broken and resigned to his fate. Murnau and Mayer wanted to end the film with the protagonist's sad death, completing their theme of a man crushed by his society's limiting ideas of a man's worth. The studio wanted a happier resolution, though, and Murnau and Mayer technically fulfill that mandate with a cynical, absurd epilogue that's practically dripping with sarcasm. It's even preceded by a title that explicitly identifies this ending as a
deus ex machina
, an intervention of the filmmakers with no relation to reality. In this ending, the porter is saved from his fate by an unlikely inheritance from a wealthy stranger, and he celebrates his good luck lavishly while doling out gifts to other unfortunate souls. The whole thing plays out as a ridiculous fantasy where it's entirely obvious that the director and writer have nothing but contempt for this addition to their art, and this tone winds up undermining the happy ending that the producers had wanted. In its very unreality, this epilogue simply reinforces the theme, since only an openly unrealistic miracle can save this sad man from what otherwise seemed an unavoidable and dismal fate.