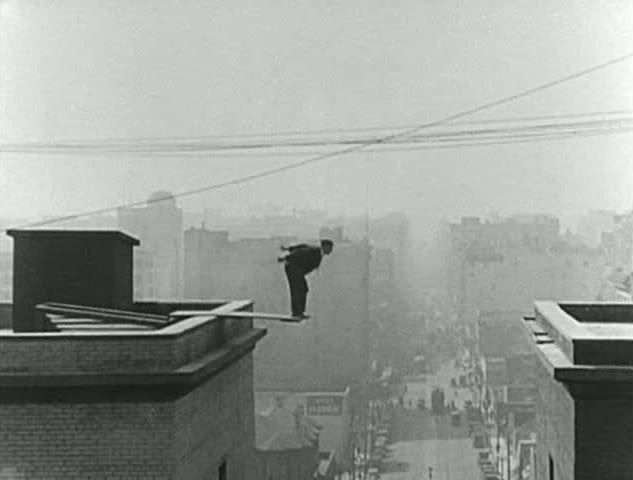 For his first feature film after a string of shorts, Buster Keaton hedged his bets slightly by making
Three Ages
, a parody of D.W. Griffith's
Intolerance
that was designed so that, if the feature had failed at the box office, it could have been split into three of the shorts that were at that time Keaton's more familiar format. The presence of co-director Edward F. Cline, who worked with Keaton on many of the comic's shorts, also announces this film's continuity with the shorter works that preceded it. The film succeeded, though, and Keaton's feature career was launched. Like the Griffith film it's based on,
Three Ages
relates parallel stories in multiple historical eras, in this case three romances, set in prehistoric times, the era of the Roman Empire, and modern times.
In each of these three eras, Keaton runs through the same basic story: he's a good guy pining over a girl (Margaret Leahy), who loves Keaton but is for various reasons pushed towards a more successful but brutish rival (Wallace Beery). Keaton's the lover, the sensitive guy the girl really likes, but in each of these stories he's lacking the socially accepted status symbols of masculinity and success: most obviously, in the modern story, the girl's mother compares the two suitors' bank books and finds that while Beery has a hefty account, Keaton keeps his meager savings in the "Last National Bank." In the historical stories, there are different standards — brute strength in caveman times, army titles in the Roman era — but the concept is the same, that Keaton's sensitive little lover doesn't measure up to what's expected of men, especially men trying to win a woman.
Of course, that's part of the joke, and defying expectations is essential to Keaton's comedy: this unassuming little man with the stoical expression is capable of graceful feats of daring that are as exciting as they are funny. Here, Keaton has plenty of chances to display his stunning athleticism and genius for comic staging as the various stories come to a climax with thrilling chases and contests in which Keaton must defeat his rival and win the girl. There's a football game in which Keaton performs a series of acrobatic dodges around various tacklers and scores a touchdown with the ball clutched between his feet. The Roman story climaxes with Keaton using a spear to pole-vault off a horse into a window, a gag that he'd repeat for
College
, though there the pole-vaulting would be performed, at much greater height, by an Olympic athlete.
Keaton's inventiveness and carefully paced gags are best displayed here in the chariot race in the Roman sequence. For this frantic race, Keaton chains together a string of hilarious, clever gags, starting with the fact that he comes to the race ready for the snow with a team of dogs and sled runners instead of wheels. The gags flow fast and furious once the race begins, too. Keaton stops to grab a spare dog from his chariot's trunk to replace a tired-out "front wheel." The dogs go off-course to chase a cat, but Keaton turns this distraction around by tying the cat to a spear and dangling it in front of the sled dog team, urging them on. Keaton is always at his best in moments like this, displaying this kind of do-anything intelligence, a canny ability to turn anything into a tool, in ways that are not only richly funny but strangely practical.
Also dazzling is the chase climax to the film's modern story, in which Keaton runs from the police in a mad race to get to the church where the girl is set to marry Beery. The scene is built around an accident: Keaton tried to perform a daredevil leap from a wooden plank across the space between two buildings, but he fell short, slipping off the second building and falling into a net. He was injured in the fall, but he then proceeded to use his mishap as the foundation of a new sequence, elaborating on it with a complex series of secondary falls, through a series of awnings, onto a drainpipe, through the window of a firehouse and down the fire pole. This is Keatonian inventiveness at its finest again, making use even of a dangerous mistake and turning it into an opportunity for what wound up being an even
better
gag than if he'd actually made the jump.
Three Ages
is consistently driven by this kind of daring and cleverness. It's not one of Keaton's very best films, and its three-part structure makes it feel like a collection of shorts woven together rather than a true first leap into feature filmmaking — that would come soon enough with the great
Our Hospitality
. But it's a typically funny and frenzied Keaton film with plenty to recommend it.